Programs

Brochure
This page is the brochure for your selected program. You can view the provided information for this program on this page and click on the available buttons for additional options.
Fez, Morocco
(Outgoing w/Side Trips Program)
Dates / Deadlines: - unrelated header
Dates / Deadlines:
There are currently no active application cycles for this program.
Fact Sheet: - unrelated header
Fact Sheet:
Program Description:
Program Description:
Program Overview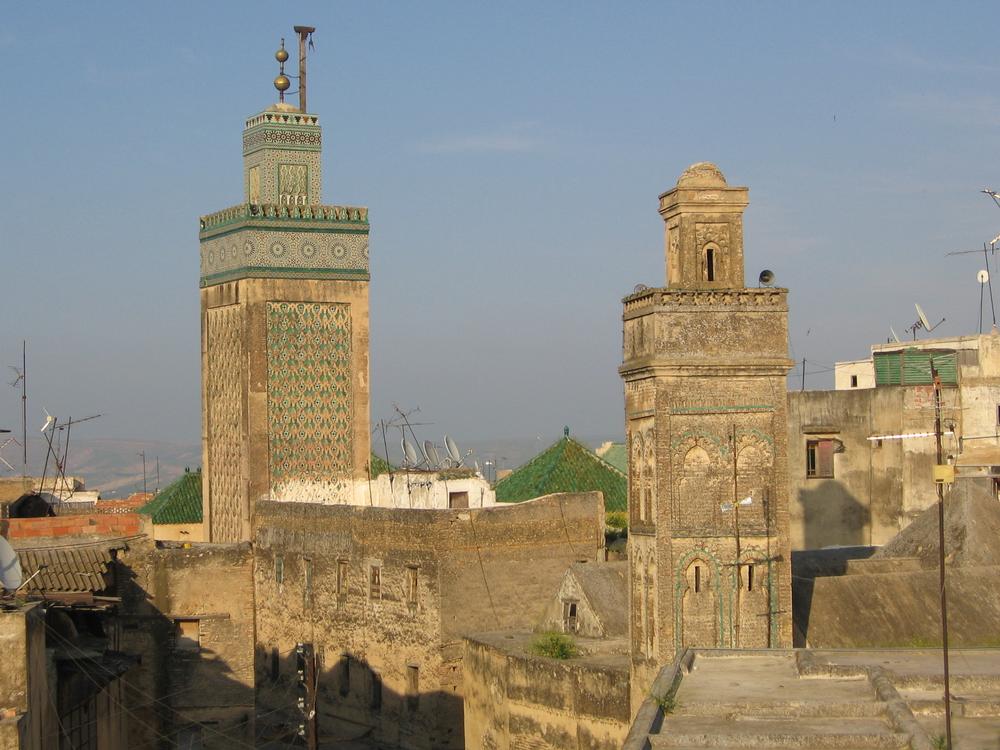 The Middle Eastern Studies Program (MES) offers a foreign study program in Fez, Morocco, Dartmouth's only non-language FSP in the Middle East and North Africa. Classes are taught at the American/Arabic Language Institute in Fez, with faculty and guest lecturers drawn from universities in Fez and elsewhere in Morocco, and a Dartmouth faculty director who participates in MES. Dartmouth's MES Program includes faculty from the Departments of Anthropology, Asian and Middle Eastern Languages and Literatures, French and Italian, Geography, Government, History, Music, Religion, and Sociology and from the Comparative Literature Program.
Founded in the ninth century, Fez has historically been the crossroads for the Mediterranean to the north, sub-Saharan Africa to the south, the eastern Arab lands, and Morocco's other great imperial cities to the west. UNESCO has designated Fez's ancient walled city or "madina" an international historical monument.
In the Fez program, classroom learning is integrated with homestays and with visits to shrines, schools, markets, and workplaces. Participants will be in Fez for nine weeks of this ten-week program. One week in the middle of the program is devoted to visits to other regions of Morocco, including the Atlas mountains and the pre-Sahara. The Dartmouth FSP in Fez offers three course credits. "Discovering an Islamic City" (MES 33) combines seminar work with field visits. "Arabic as a Cultural System" (MES 54) is an intensive introduction to spoken Moroccan Arabic and its cultural significance. The third course is taught by the Dartmouth program director. A prior knowledge of French or Arabic is helpful, although not required.
Academics
Faculty Directors
2020 Spring: Program Cancelled

Curriculum
MES 16.23: Discovering an Islamic City (formerly AMES 53)
MES 16.22: Arabic as a Cultural System (formerly AMES 54)
For Spring 2019 and 2020: CANCELLED

Prerequisites
Completion of one of the following courses with a grade of B or higher:
-Thought and Change in the Middle East and Central Asia (Anthropology 27 [=AMES 5])
-Political Anthropology (Anthropology 15, with Middle Eastern Studies faculty and topics)
-Islam: An Anthropological Approach (Anthropology 19 [=AMES 6])
-Introduction to Arab Culture (Arabic 10)
-Topics in Modern Arabic Literature and Culture (Arabic 61) or Themes in Arabic Literature and Culture (Arabic 63, when the designated topic includes a focus on North Africa)
-The Eye of the Beholder: Introduction to the Islamic World (History 5.2 [=AMES 14])
-History of North Africa from the Arrival of Islam to the Present (History 68)
-Islam in Africa (History 69)
-Social History of the Contemporary Middle East (History 71)
-The Arab World in the Twentieth Century (History 89)
-Introduction to Islam (Religion 8 [=AMES 8])
-Modern Islam (Religion 16 [=AMES 15]), or
-The Political Economy of Development in the Middle East and North Africa (Government 40).
-State-building in the Middle East and North Africa (Government 40.19)

Students also qualify if they have taken one year (three terms) of Arabic. You need not be an AMES major to participate in the AMES FSP Fez.
Student Life
For part of the first week of the program, students live in a hotel within walking distance of the classrooms. The rest of the time in Fez is normally spent with a host family, and selected families always have one family member who may speak some English. In hotel stays, as in overnight travel elsewhere in Morocco, two students are assigned to a room, with gender separation as required by Moroccan law.

While living with home-stay families, all meals will be provided with the exception of weekday lunches. While meals are part of the arrangement, families are not expected to depart from their standard diet. With the exception of a vegetarian diet, homestay participants are not entitled to "order" particular foods unless this is necessitated for reasons of medical or religious/ethical restrictions declared before departure to Morocco.

During the hotel stays, only breakfast will be provided; the Faculty Director will provide funds for other meals. While on tour, Dartmouth will provide a per diem to students for accommodation and meals.

Financial Information
Tuition and Fees
The fees charged by the College for a Dartmouth-sponsored off-campus term of study include regular tuition charges for a term at Dartmouth, service fees, as well as the specific costs established for each off-campus study locale. In many programs, the room and board costs tend to be higher than for a term in Hanover. You can view a budget sheet for this program by clicking
here
. The cost of transportation to and from the site is the responsibility of the student.
Financial Aid
In order that all qualified Dartmouth undergraduate students may have the opportunity to take part in off-campus programs, the College endeavors to adjust its normal financial aid awards for students already receiving aid. Tuition and expected family contribution for Dartmouth's off-campus programs are the same as for an on-campus term. Assistance is available to meet extra costs associated with off-campus programs, including airfare. Half of any extra cost is met with additional Dartmouth scholarship; loan assistance is offered for the other half. Loan assistance is also offered to replace the employment that would normally be included in an on-campus term. Although financial aid recipients are given aid to cover all of the required costs of the program, students are responsible for purchasing their own plane ticket and, on some programs, meals. Often this means that part of the expected family contribution is used towards these costs rather than for tuition.